back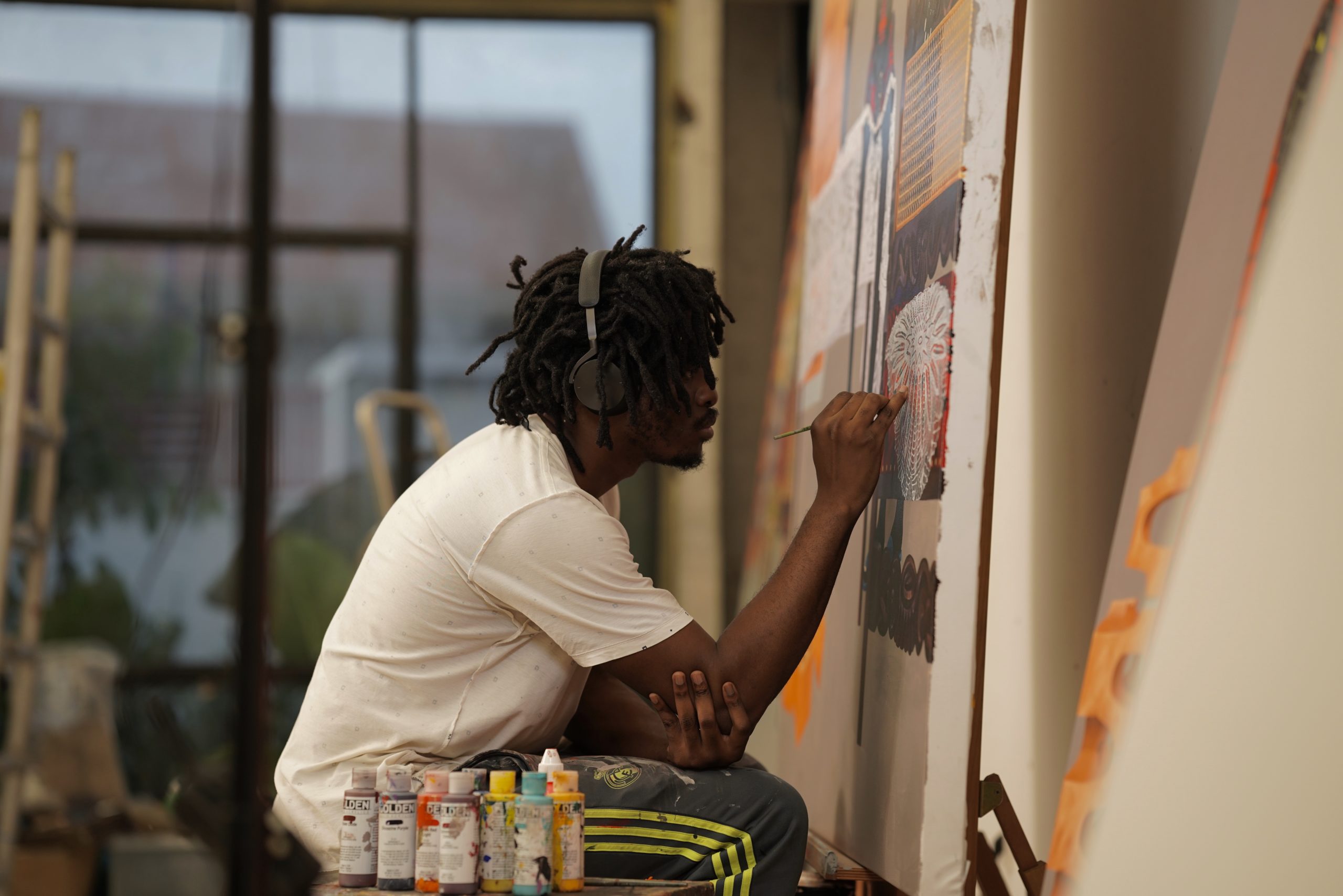 FEATURED WORKS
Close
BIOGRAPHY
Eddy Kamuanga continues his search to understand the present-day Democratic Republic of the Congo by exploring its past. The vibrant colours and intricate textures that characterise the artist's style appear at odds with the melancholy permeating the unfocused gaze of the figure. A gaze lost in another place, future or maybe past. A gaze belonging to a body that bears the signs and scars of a bewildering past and an equally uncertain future. The artist creates continuity in his work through figures scarified with motifs reminiscent of electrical circuits. This highly symbolic visual thread references the situation of the DR Congo. The situation of a country whose people and outrageously rich lands have, for over a century, fallen prey to exploitation, and whose history of resistance to the various invasions has not been adequately told.
The artist seeks to include visual elements symbolising the persistence of traditions and skills despite the violence of colonialism and the ongoing violence that the neoliberal project inflicts on the country. For instance, the goat, has enjoyed a unique status in Congolese family life and social interactions from precolonial times to the present day. Gifted at weddings and other important events, the animal can, by virtue of its unchanging status throughout time, be considered symbolic of a certain kind of resistance, enacted by every Congolese citizen.
Born in 1991, Eddy Kamuanga lives and works in Kinshasa, Africa. In 2017, his work was included in the exhibition African-Print Fashion Now! at the Fowler Museum, UCLA, touring to Memphis Brooks Museum of Art, Memphis, TN, and Mint Museum, Charlotte, NC. His work has been exhibited internationally at institutions including Frist Art Museum, Nashville, TN; Kunsthaus, Graz, Austria; Birmingham Museum & Art Gallery, Birmingham, UK; Saatchi Gallery and the Royal Academy of Arts, London, UK. In 2022, he was part of the group exhibition Fortitude: Resistance and Resilience in African Arts – Reimagining the People's Collection at the North Carolina Museum of Art, Raleigh, USA.
Eddy Kamuanga's work is in important private and public collections including: Private Collection Laurence Graff OBE; Zeitz Collection of Zeitz MOCAA, Cape Town, South Africa; the Hood Museum of Art, Hanover, USA; Pizzuti Collection of the Columbus Museum of Art, USA; the Norval Foundation, Cape Town, South Africa; Scheryn Art Collection, Cape Town, South Africa; Vanhaerents Art Collection, Brussels, Belgium; the Virginia Museum of Fine Arts, Richmond, USA and the Montreal Museum of Fine Arts, Montreal, Canada. Eddy Kamuanga is presenting his first solo exhibition at Zidoun-Bossuyt Luxembourg from 21 June until 22 July 2023.
Read more
Close
Download full biography (PDF)