back
The Contemporary Art Museum of Luxembourg (Mudam) acquired Godwin Champs Namuyimba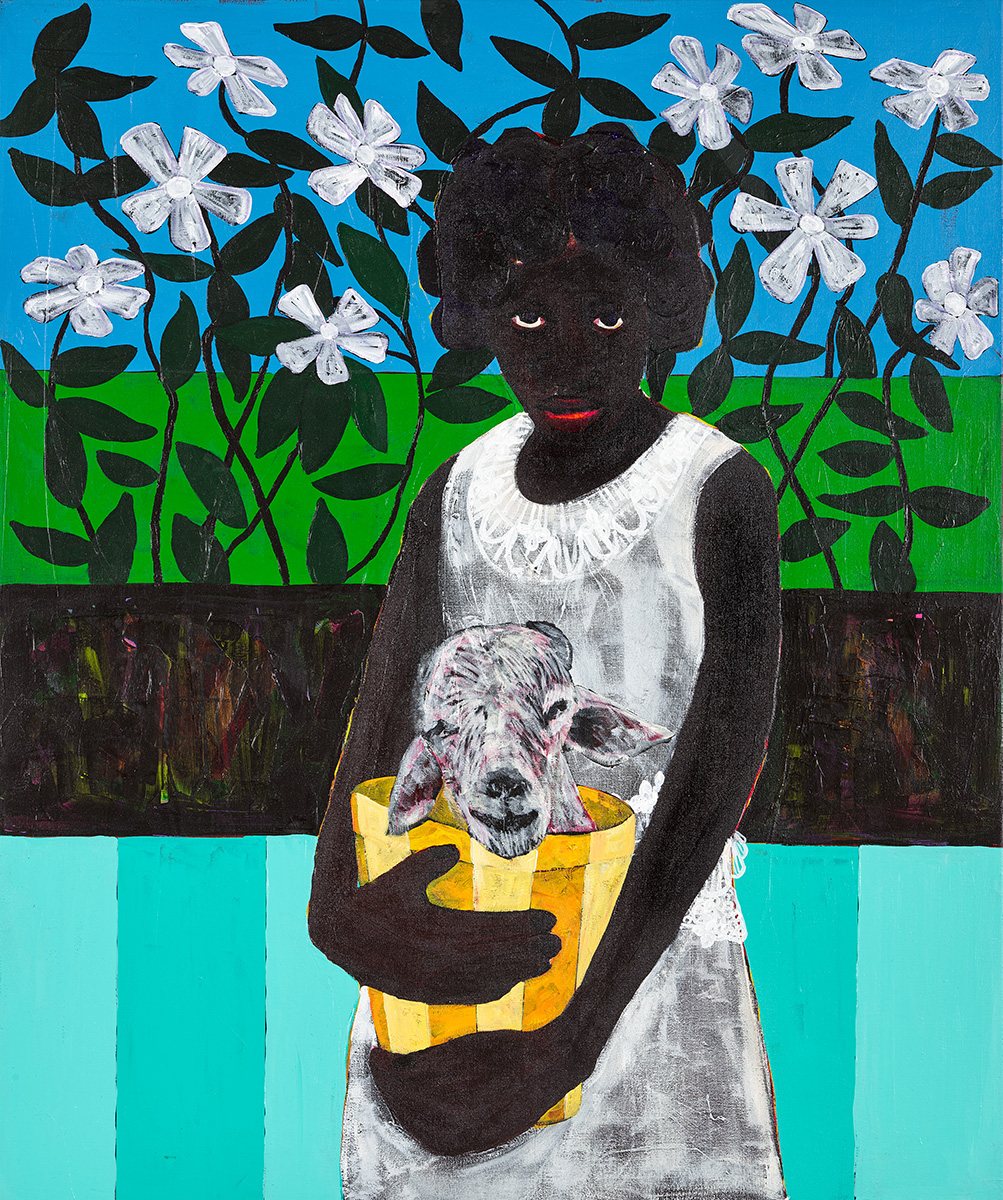 The Contemporary Art Museum of Luxembourg (Mudam) acquired Godwin Champs Namuyimba
Zidoun-Bossuyt Gallery is pleased to announce the acquisition of Godwin Champs Namuyimba's artwork The Harvest by the Contemporary Art Museum of Luxembourg (Mudam).
The Harvest is a painting depicting a young woman holding a bucket containing a sheep's head. Namuyimba used the original source material from an online stock image of a minor American celebrity endorsing an orchid importer. In his transformation of the source material, a figure emerges of a local tribes woman from the border regions of Uganda/Rwanda/Tanzania seemingly curious or inquisitive, wielding a protective pose to retain her property, potentially that evening's dinner. Or is the figure exuding the same radiance of entitlement that comes with the western cultural agreement of success, wealth and promise of youth that has been anchored for much too long in the preconceptions of the mainstream?
The Museum felt it necessary to acquire the painting for its permanent collection and to introduce the conversation that the work evokes in a time of global cultural urgency, where the many psychologies of the self have taken center stage to tell a wider story about the human condition, its transformations and its deep complexities.
Born in 1989 in Masaka, Uganda, Godwin Champs Namuyimba holds a BFA from Kyambogo University. He exhibited internationally at East Projects (New York), Anne de Villepoix (Paris), Galleri Steinsland & Berliner Gallery (Stockholm). In May 2021, he was part of the group exhibition SUMMERTIME at Zidoun-Bossuyt Gallery in Luxembourg.
Godwin Champs Namuyimba's next solo show at Zidoun-Bossuyt Gallery Luxembourg
17 March – 16 April, 2022
The Harvest, 2021, acrylic and mixed media on canvas, 120 x 100 cm (47.24 x 39.37 inches)
back

Warning: Invalid argument supplied for foreach() in /home/clients/699f7c3e6ea9812821d1a4e349cffff5/web/zidoun-wp/wp-content/themes/zb/single-news.php on line 62

UP