back
Yashua Klos at Ruth and Elmer Wellin Museum of Art Hamilton College I 12 February – 12 June 2022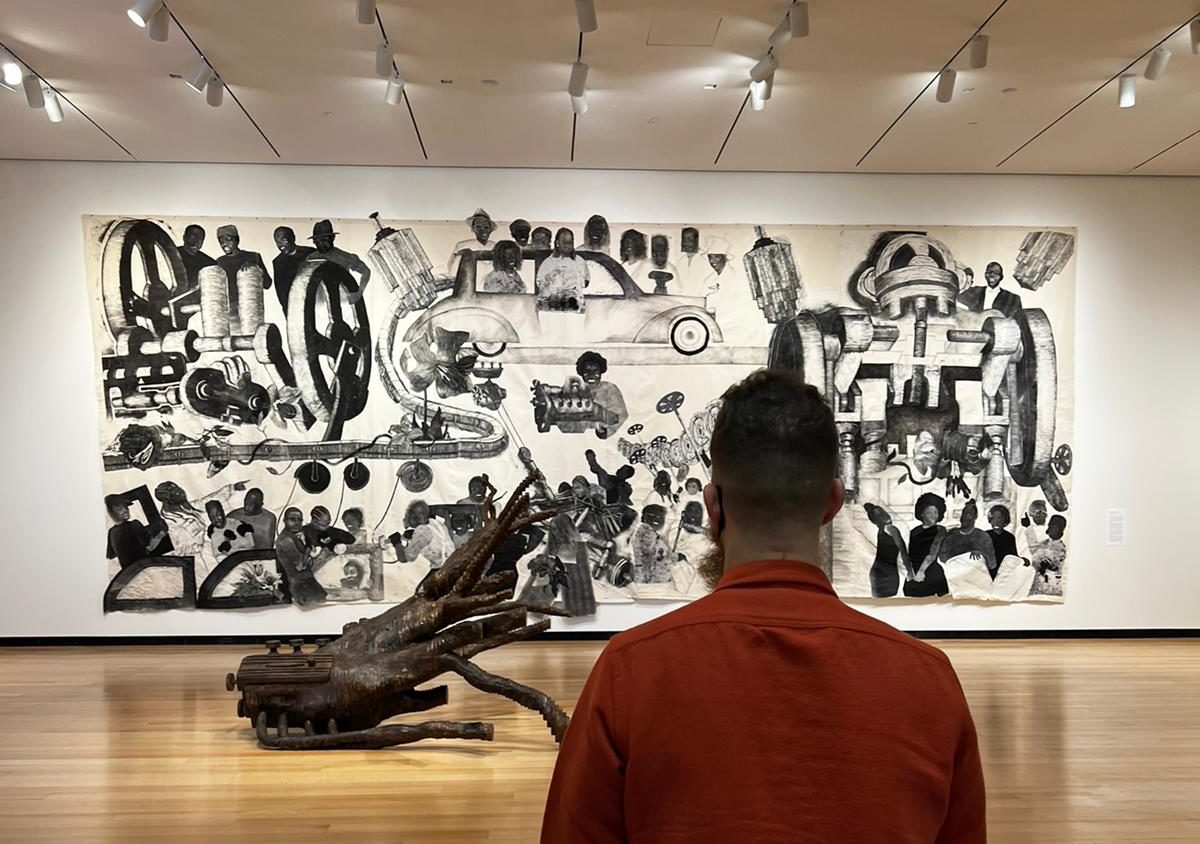 Yashua Klos at Ruth and Elmer Wellin Museum of Art Hamilton College I 12 February – 12 June 2022
Yashua Klos
OUR LABOUR
12 February – 12 June 2022
Ruth and Elmer Wellin Museum of Art Hamilton College, Clinton, NY
OUR LABOUR, curated by Johnson-Pote Director Tracy L. Adler, marks Yashua Klos's first solo museum show and builds upon the artist's recent explorations into the intersections between the human form, the natural world, and the built environment. Foregrounded in a series of print-based and sculptural works created especially for this exhibition—including a collaborative mural realized with the assistance of Hamilton students—the show considers how familial, geographic, and narrative histories inform notions of identity. This body of work is inspired by a recent life-changing event that led Klos to gain a deeper and more nuanced understanding of his family's multigenerational history working for the Ford Motor Company in Detroit. The work on view incorporates representations of aunts, uncles, cousins, and other relations—both figuratively and metaphorically—alongside mechanical and natural elements such as car engines, gears, flowers, and vines. Klos's approach is a means of both untangling and connecting his own complex and sprawling genealogical history.
Yashua Klos (b. 1977, Chicago, Illinois) lives and works in Brooklyn, New York. His work has been featured in solo gallery exhibitions at Galerie Anne de Villepoix, Paris; Jack Tilton Gallery, New York; and UTA Artist Space, Los Angeles. Klos has exhibited at the California African American Museum, Los Angeles; Carnegie Mellon University, Pittsburgh; Goodman Gallery, Johannesburg; International Print Center New York; and the Studio Museum in Harlem, New York; among other institutions. His work is included in the collections of the Kalamazoo Institute of Arts, the Pizzuti Collection, the Seattle Art Museum, and the Wellin Museum of Art. He has been awarded residencies at the Bemis Center for Contemporary Arts, BRIC, Skowhegan School of Painting and Sculpture, the Joan Mitchell Center, and the Vermont Studio Center. He is the recipient of a 2014 Joan Mitchell Foundation grant and a 2015 New York Foundation for the Arts fellowship. He earned an MFA from Hunter College, City University of New York, in 2009, and a BFA from Northern Illinois University in 2000. Klos is represented by Sikkema Jenkins & Co., New York, and Zidoun-Bossuyt Gallery, Luxembourg.
More information here
Yashua Klos will be part of the inauguration group show at Zidoun-Bossuyt Gallery Dubai in March 2022 and will have his first solo exhibition in Luxembourg in September 2022.
UP