back
Zidoun-Bossuyt Gallery now represents John Madu I July 2021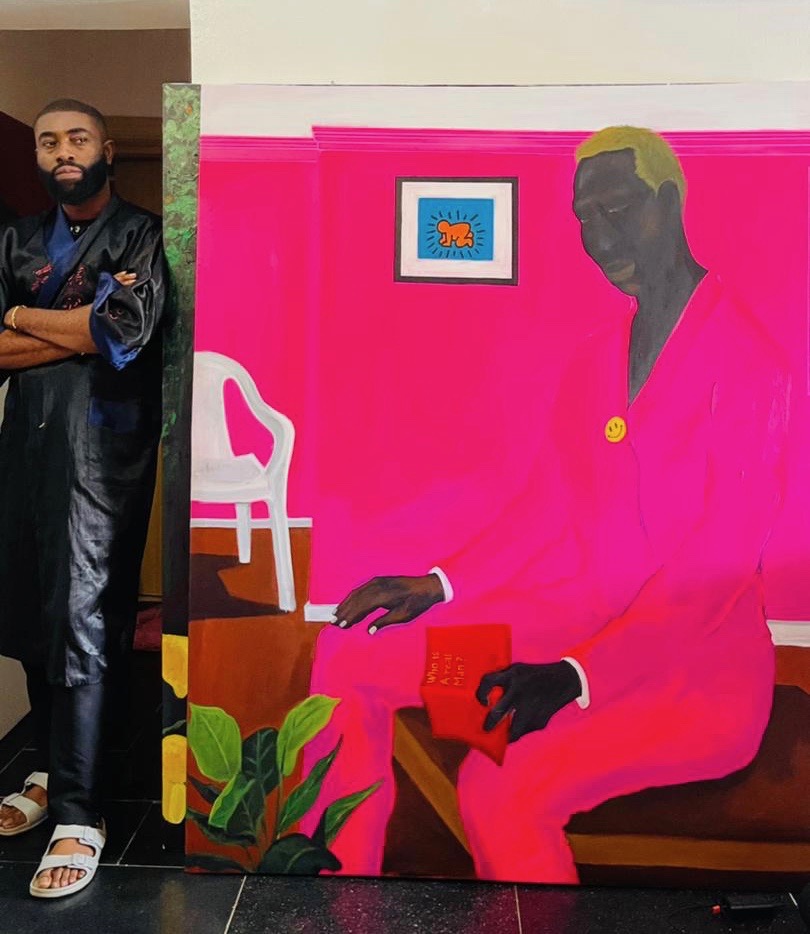 Zidoun-Bossuyt Gallery now represents John Madu I July 2021
Zidoun-Bossuyt Gallery is delighted to announce exclusive representation of Nigerian artist John Madu.
John Madu's work is featured in the group exhibition "Summertime" at Zidoun-Bossuyt until July 24th.
John Madu is a Nigerian multi-disciplinary artist, best known for his figurative symbolic style of paintings. His work can be described as eclectic because of how he derives ideas, from a various range of influences and sources based on popular culture, African history, art history and personal experiences. Symbolism is usually evident in his work, with reoccurring iconography such as books, paintings, and other recognizable items which convey a certain meaning in art, and act as metaphors to a subject.
John Madu relays personal narratives through allegories in his vibrant paintings. His subjects, usually depicted within their intimate domestic spaces, seemingly pose or are caught in mid-reflection. John Madu pays careful attention to the symbolism of the objects in his portraits, finding hidden meanings in the routine decor of the house. Artworks are hung on the walls of bedrooms and living rooms using surreal colors including orange hair and pink walls. The quiet subtleties of his objects come out in the small details: the texture of the popular Ankara wax fabric, the pattern of a Ghana-must-go bag, the curved design of a table lamp, …
John Madu considers himself as a self-taught artist exploring all possible concepts with a wide array of mediums such as acrylic paint, oil paint, spray paint, ink, burlap and collage. His multidisciplinary approach has guided his creative interest in design objects, sculpture, functional art, and even artistic fashion pieces. John Madu started painting professionally two years after being graduated from the university with a Bachelor degree in Policy and Strategic studies. Since 2008, Madu's art has been featured in contemporary art exhibitions both locally and internationally. Group shows include Art Expo Nigeria, 2008; One Artspace Gallery, New York, 2018; Copeland Gallery, London, 2019; among others. Solo shows include Didi Museum, 2015 and Artyrama gallery, 2018, Lagos. He has collaborated with international brands such as DIESEL in 2016 and Bombay Sapphire in 2018 and has participated in Tokyo and Shanghai Art Fair in 2020.
John Madu will have his first solo exhibition at Zidoun-Bossuyt Gallery in November 2021.
back

Warning: Invalid argument supplied for foreach() in /home/clients/699f7c3e6ea9812821d1a4e349cffff5/web/zidoun-wp/wp-content/themes/zb/single-news.php on line 62

UP