back
WORKS AVAILABLE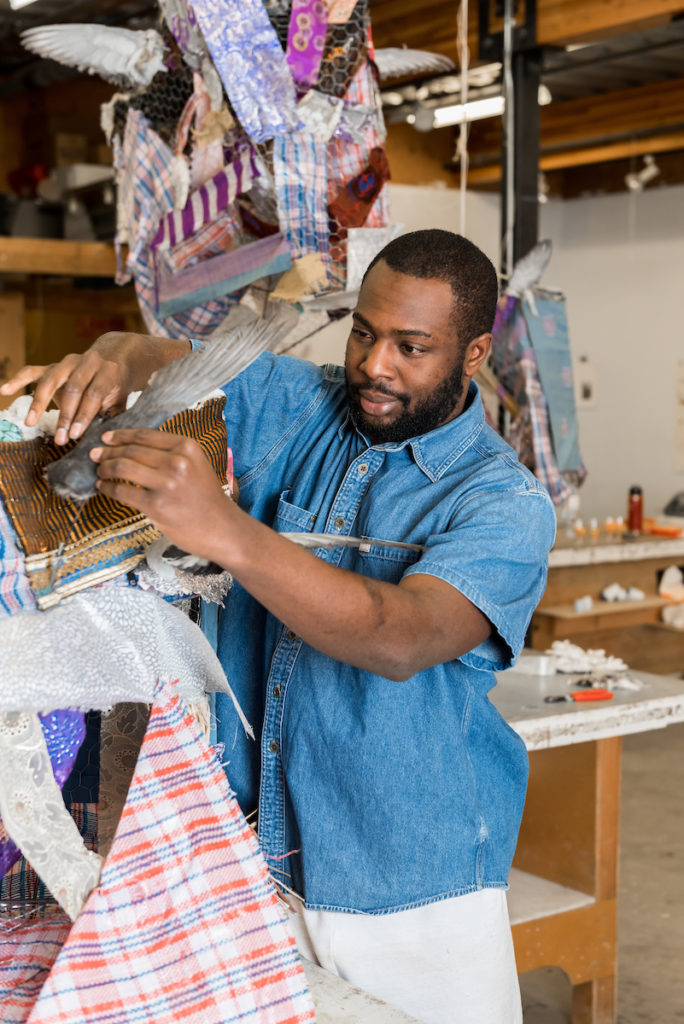 Close
BIOGRAPHY
Anthony Olubunmi Akinbola's work is fundamentally built upon the philosophy of the readymade and investigation into his relationships with these same objects. Foregoing conventional approaches to painting and sculpture, he reimagines the construction of identity through startling original treatments of color and texture. He pushes his materials away from their typical cultural and historical evocations, emphasizing plays of color and texture while highlighting unexpected thematic associations. Upon parsing the readymade object, Akinbola examines the intimate narrative of our individual and collective cultural associations to these objects, amplifying their seminal and perpetual role in the fragile construction of who we are. Throughout the artist's process he has used Du-rag; fiber scarves used in the maintenance of African hair, as a primary material to continue the investigations of the Color Field and Action Painting movements. His series of textile paintings celebrate and reconcile diverse cultural narratives, creating multilayered works of art that engage consumption, respectability, and the commodification of African-American identity, and its vulnerability to structures of capitalism.
Upon emphasizing its transition from mass produced good to art material, Akinbola simultaneously transforms not only the object but the entire environment with his large- scale paintings. The fabrics exist in a spectrum of hues; flayed and draped, stretched and strung tight, intuitively weaved across a wooden panel. Their bold compositions permeate the space, immersing the viewer in their multi-layered fabrication, an allusion to the complex fashioning of identity. The Camouflage series taps into a ready-made tradition and delves into themes of hybridity, consumerism and race, Akinbola sees each new exhibition as an opportunity to reexamine and contextualize the work through a new lens.
Anthony Olubunmi Akinbola was born in 1991 in Columbia, Missouri. He has been included in solo and group exhibitions at venues including the Queens Museum, NY; The Zuckerman Museum of Art, GA; The Verbeke Foundation, Belgium; the museum of Art and Design, NY among others. He was selected for the Anderson Ranch Art Center Residency in 2017, was awared the Van Lier Fellowship in 2019, and was an artist in residence at Galerie Krinzinger, Vienna in 2020. He has moubted a significant solo exhibition in early 2021 at the Kohler Arts Center, WI. He lives and works in Brooklyn, NY.
Read more
Close
Download full biography (PDF)