back
WORKS AVAILABLE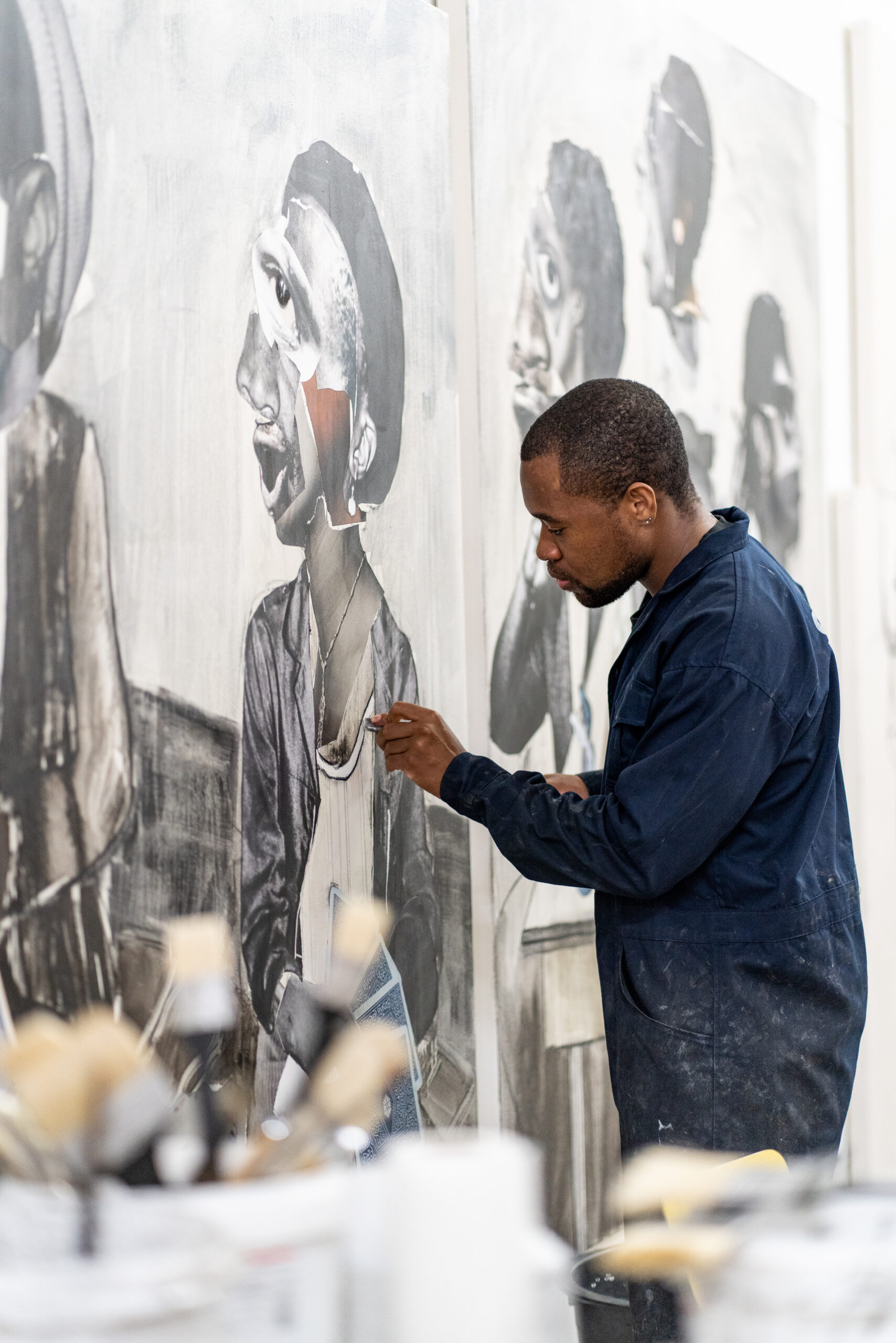 Close
BIOGRAPHY
Neo Image Matloga works with drawing, painting and collage to make large-scale mixed media pieces on paper or canvas, depicting domestic scenes which capture memories of daily life during his childhood in South Africa. These monochromatic works play with surrealism and perspective, pushing light, shadow and line to the edge of abstraction. The artist's practice is a meditation on the healing properties of family and home, showing fragments of happiness and togetherness in the midst of struggle, and the new hope for a democratic future after the end of Apartheid which was emerging at the time. Neo Image Matloga uses a black, white and grey palette and titles most of his works in his mother tongue, Sepedi, a choice not without its political connotations, or its ambiguities. His characters are hybrids, their faces formed by collaging together photographic images of friends, family, and famous South African figures from politics and the arts. The process of cutting, reconfiguring, and collaging facial anatomy is Neo Image Matloga's way of trying to identify with the racist gaze, thereby disappropriating its oppressive power.
Neo Image Matloga was born in 1993 in Mamaila, a small town in Limpopo province, South Africa. He has been exhibited in galleries across Netherlands, United States and South Africa including exhibitions at De Ateliers, Amsterdam; SCOPE Art Fair, New York; FNB Joburg Art Fair, Johannesburg; Kunsthal KAdE, Amersfoort; Gallery van Dorst, Wassenaar; Printmakers Gallery, Washington. Before participating in the De Ateliers residency in Amsterdam from 2016 to 2018, Neo Image Matloga completed a residency at the Bag Factory in Johannesburg, South Africa in 2015. In 2018 he won the Royal Award for Modern Painting at the Royal Palace of Amsterdam and in 2022 the ABN AMRO Art Prize. His work is part of many collections including the Fried Museum (Netherlands); SMAK (Belgium), The Dean Collection; Dordrechts Museum (Netherlands). He is currently exposing at Zeitz MOCAA, as part of the group exhibition When We See Us: A Century of Black Figuration in Painting, with artists of the calibre of Njideka Akunyili Crosby, Zandile Tshabalala, Lynette Yiadom-Boaky, Amy Sherald.
Neo Image Matloga currently lives and works in Amsterdam, where he recently completed a two-year residency at De Ateliers.
Read more
Close
Download full biography (PDF)