back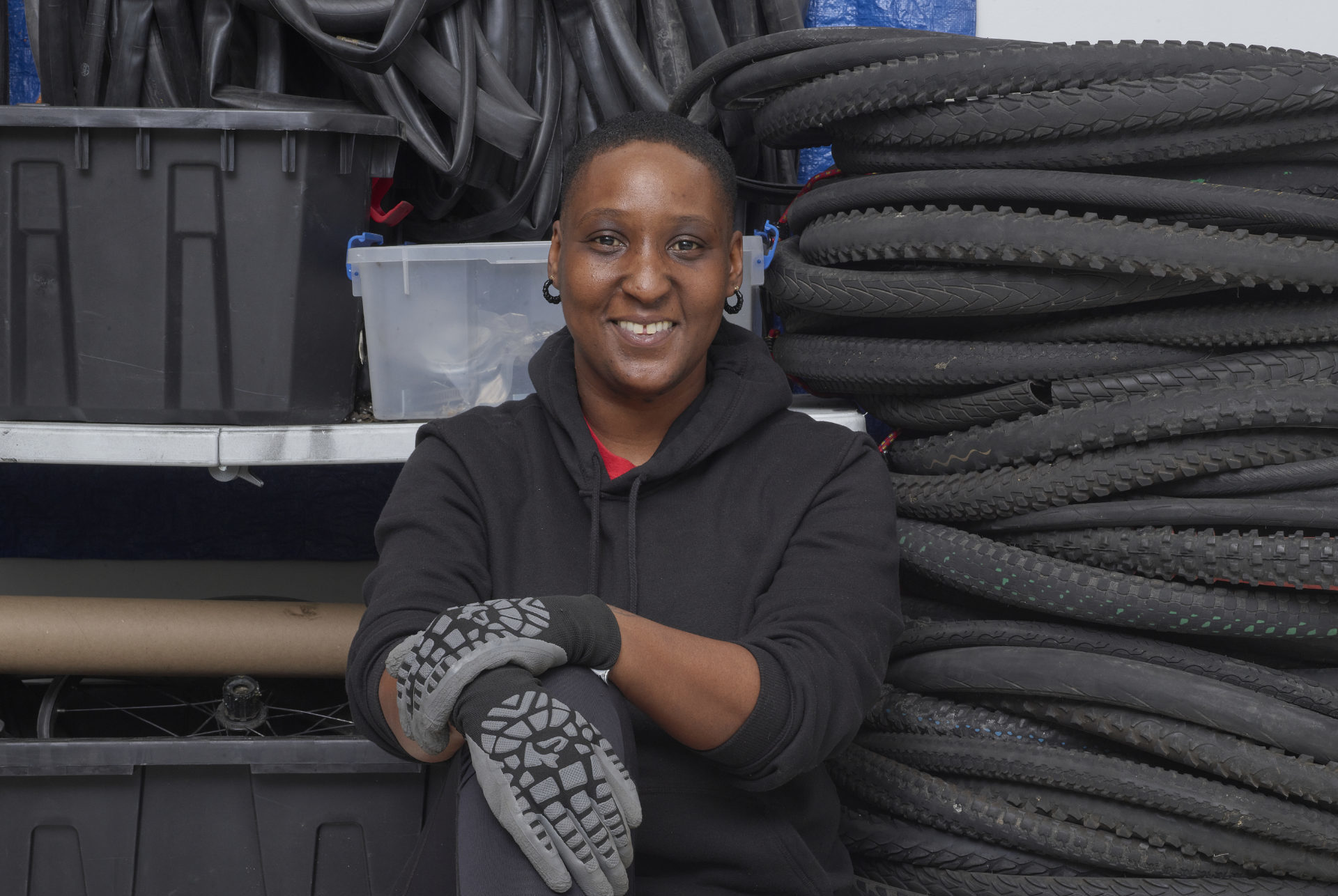 FEATURED WORKS
Close
BIOGRAPHY
Kim Dacres is a visual artist using found tires and rubber to create sculptures celebrating influential forces in her life such as family, community, musicians, athletes, and ideas. Dacres' process involves collecting and disassembling tires, layering them around wooden armatures using screws, and treating them with spray paint. In her work, Dacres emphasizes the facial expressions and hair styles of each piece in order to capture some of their charisma and celebrate their Blackness while also considering who is entitled to space and deserving of honorifics and monuments.
She is attracted to discarded rubber because of the color, smell, and the material's symbolism imbued with a wealth of experience paired with wear, tear, and sudden disregard. Through the process of layering the materials, the rubber's journeying experience transforms into muscle, bone, skin, hair, and personal style. Her work considers the texture of experiences unique to Black People and women and the fragments of their experiences that shape a world view.
Dacres was born in the Bronx to Jamaican immigrants. Over the last four years, Dacres has participated in several group shows internationally and within the United States. Her most recent solo exhibition, Black Moves First, an installation of eight sculptures honoring her maternal family lineage, opened at Gavlak Gallery in Palm Beach in December 2021. Her work has also appeared at: Bradley Ertaskiran Gallery, Quebec, Canada; Galleria Anna Marra, Rome, Italy; Lustwarande, Tilburg, Netherlands; Marcus Garvey Park, Harlem, New York; A.I.R Gallery, Brooklyn, New York; Gavlak Gallery, Los Angeles, California and Palm Beach, Florida; REGULARNORMAL, New York, New York; Parallax Art Center, Portland, Oregon; UTA Artist Space Gallery, Beverly Hills, California; Oolite Arts, Miami Beach, FL and Los Angeles County Museum of Art, Los Angeles, California. Dacres lives in Harlem and practices her studio work in the Bronx.
Read more
Close
Download full biography (PDF)
news
videos
Studio visit: Kim Dacres
July 2022, 2022