back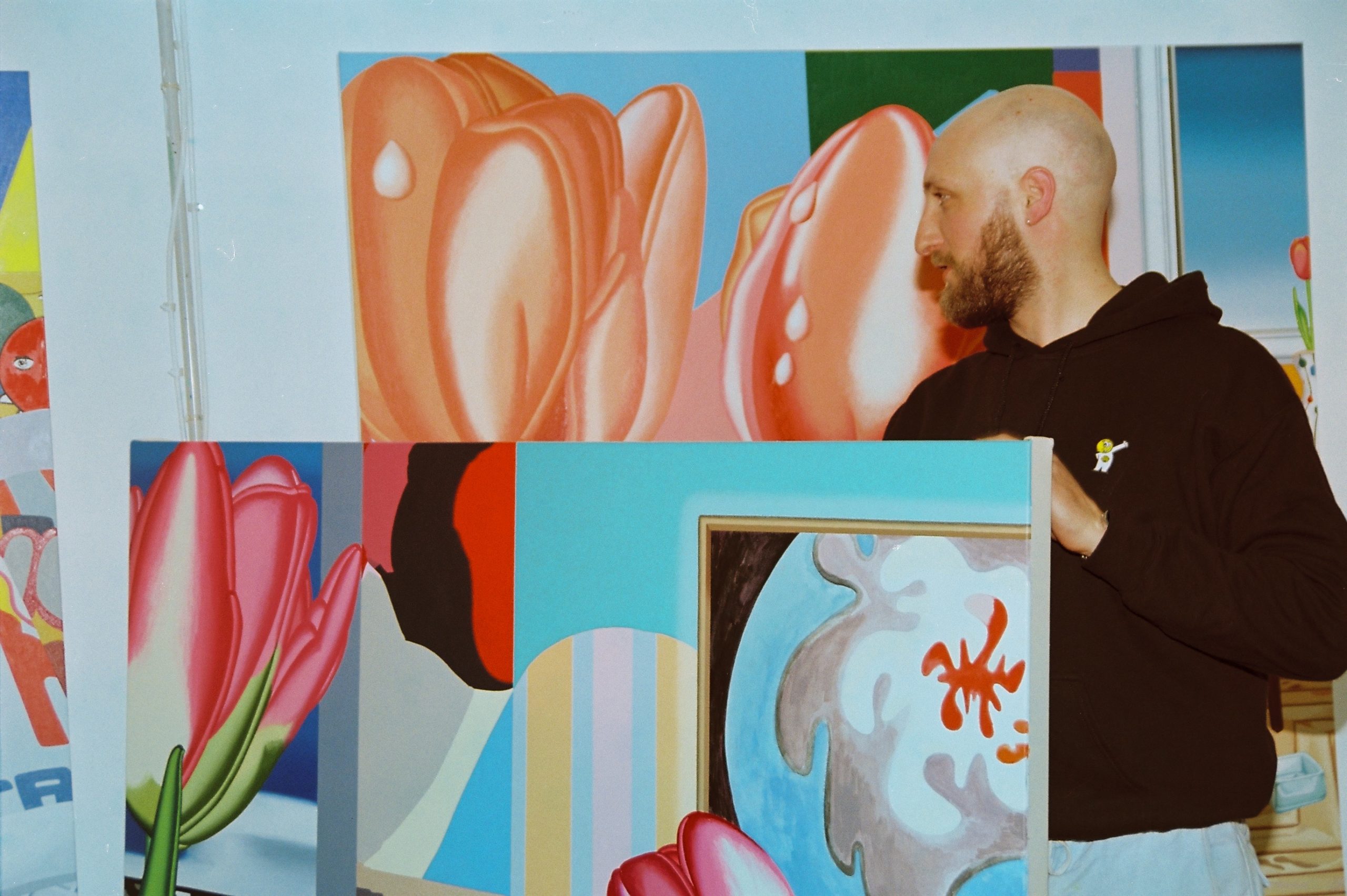 BIOGRAPHY
Louis Granet's artistic practice is based on the links between comics and painting. The artist develops techniques and codes learned at the renowned Comic Art School of Angouleme to apply them on several supports. Signs, lines and forms are the starting point of his artistic approach.
The re-appropriation of overlapping images tends to disorientate the public: the spectator is confronted at the same time with abstract forms as well as with representational and physical images. Nevertheless, Louis Granet's pictural research, scrambled and partly explicit, leaves an important place for the viewer's imagination. The different kinds of forms and materials used, as well as the different perspectives, create multi-layered compositions appearing on the surface of the paintings, which can be read in multiple ways.
We could think that Louis Granet's images are evident deviations from the reproduction practices and narrations coming out of comics, graphic design or publishing. But Louis Granet's approach responds to a necessity. It is firstly made of drawings, strokes and breaks. The drawing is pointless, fragile and reproducible. The line is a sign, conveys flexibility, correctness or at least is wanted as such. This line overflows, unnecessarily, in a super-flux of codes or familiar forms: communications and compositions, apprehensions to the almost too brutal chromatics, which are too fast in their immediacy. These are Louis Granet's current paradoxes and strives: to give to see and to perceive scenes and manners at the same time physical and obvious, but also abstract, speculative and delicate. Louis Granet's gestures use the evidence of the image and its pictoriality to launch processes of allusions and abstractions, more than illusions or illustrations.
Louis Granet was born in 1991 in Bordeaux, France. He lives and works in Paris, France. He is graduated from the Ecole Nationale Supérieure des Arts Décoratifs in 2014. He was Hubert Neumann Foundation's first artist in residence in 2018. He held solo exhibitions at Société Générale, Paris in 2019 and is also part of the collection of the institution, Centre d'art contemporain « atelier d'Estienne », Pont-Scorff, France in 2019 and also internationally with Neumann Wolfson Arts since 2018. He was part of numerous group exhibitions: the15th Lyon Art Contemporary Biennale, Lyon, France; LVH Art, London, UK; Fondation Louis Vuitton, Paris, France; Musée d'Orsay, Paris, France; ART-O-RAMA, Marseille, France; among others. He was selected for the annual exhibition Jeune Création, Thaddeus Ropac, Pantin, France in 2016. Solo shows include: Gilles Drouault galerie/multiples, Paris, France; Cuturi Gallery, Singapour; Neumann Wolfson Art, New York, NY. In May 2022, Louis Granet presented a workshop at Studio 13/16, the space dedicated to art and creation for and by young people in Centre Pompidou.
Read more
Close
Download full biography (PDF)
PUBLICATIONS
LOUIS GRANET – THANK YOU
Catalogue of the exhibition "THANK YOU" by Louis Granet.
September 2019
Order

videos
"Comme chez toi !" at Zidoun-Bossuyt Paris
24 May - 22 July 2023, 2023
Inauguration of Zidoun-Bossuyt Dubai
8 March - 23 April 2022, 2022