back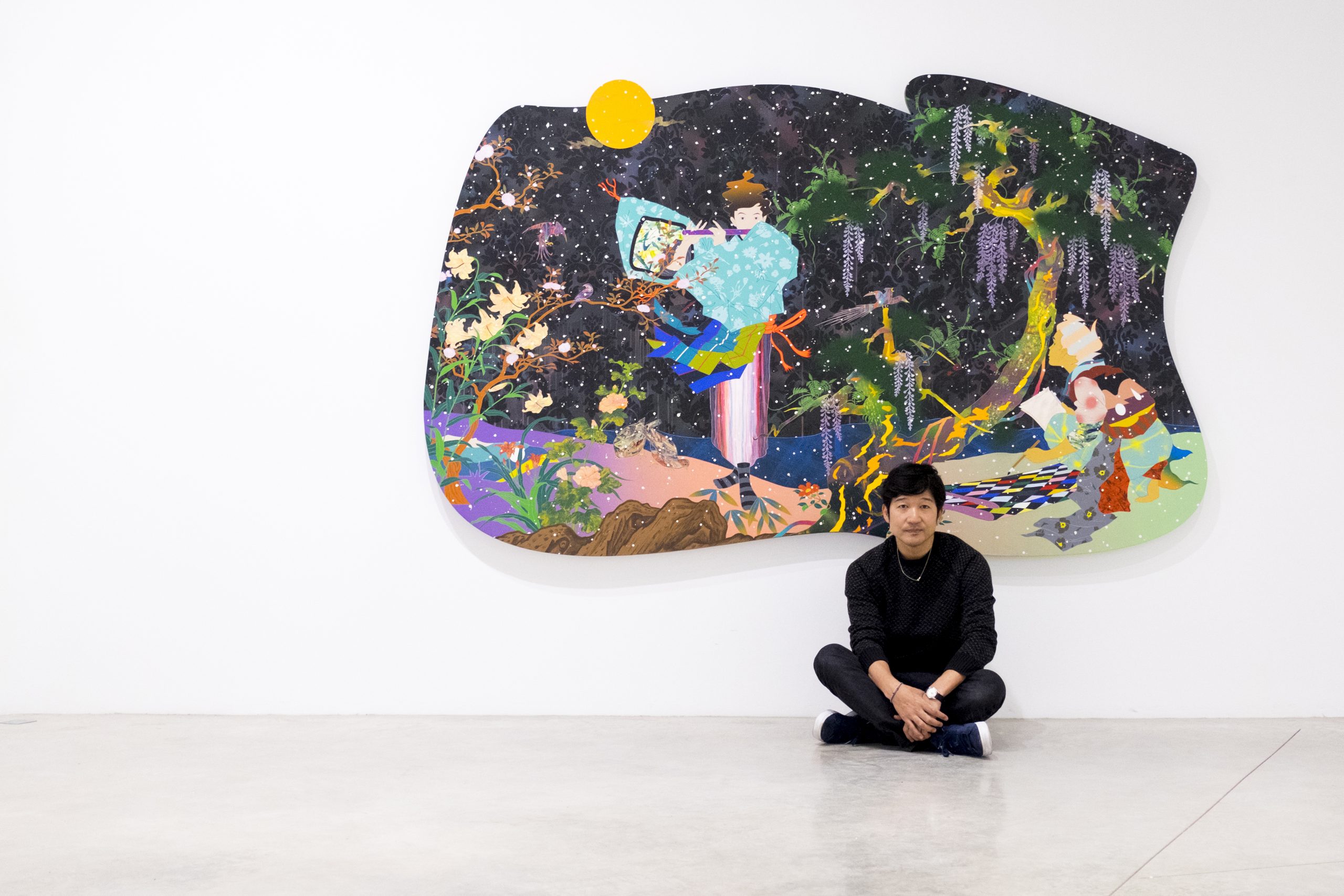 BIOGRAPHY
Celebrated for interweaving the canons of East and West, New-York based artist Tomokazu Matsuyama's oeuvre defies traditional categorization. Matsuyama's paintings and sculpture reflects a strategic adoption of Eastern and Western motifs, a response to his upbringing and the impact of globalization on cultural identity. In the tradition of pop art, his work addresses the dichotomy of high and low art, and speaks to the populist notion of contemporary urban culture.
In his figurative works, yet identifiable elements of pop culture are coupled with references to historical masters of both spheres. Obvious influences from the high-brow Kano school, a dominant style of painting in Japan from the 15th – 18th centuries, seamlessly blend with homage to American styles of painting such as Abstract Expressionism, and decorative motifs drawn from notable Western fashion and interior designs.
The restrained abstract works pay homage to NY school of Post War Abstract Expressionist Painters, but instead of allowing the gestural underlay of the paintings to remain spontaneous and untouched, the artist confines them into mandalic patterns, referencing the origami cranes made in the East as good-luck charms. In this way, his abstract works have a concrete meaning in a way abstract expressionism never sought to pursue.
Tomokazu Matsuyama was born in Gifu, Japan in 1976 and lives and works in Brooklyn, New York. He received his MFA in Communications Design from the Pratt Institute (NY). Matsuyama's important exhibitions include the Japan Society, New York; the Harvard University, Massachusetts, and the Katzen Arts Center at American University Museum, Washington D.C., and Museum of Contemporary Art Museum, Sydney, Australia, among other galleries and institutions. His work is part of the permanent collections of the Los Angeles County Museum of Art (LACMA), Asian Art Museum San Francisco, Cosmopolitan Hotel Group (NV), the Royal Family (Dubai, UAE), The Standard Hotel (Andre Balazs Group), Microsoft Collection, the Long Museum (Shanghai, China), Xiao Museum (Suzhou, China) among others. In August 2014 he was awarded the Harbour City Gallery Public Art Commission in Hong Kong. He was selected to show with HOCA Foundation, Hong Kong (March-April 2017). He was one of the nine new murals of The Wynwood Walls program during Art Basel-Miami 2018 and unveiled the new Houston Bowery Wall in New York in October 2019 as well as a mural in Beverly Hills in 2020. At the occasion of the 2020 Summer Olympic games, he designed a permanent public art project (including a large-scale sculpture and a floor installation) at Shinjuku station in Tokyo, Japan. In 2020 the artist unveiled another monumental permanent public art project for a new building development adjoining Ivy Station in Culver City, Los Angeles as well as second mural on the very select Bowery Mural in Downtown, Soho, New York. In 2021, Matsuyama presented a LED Billboard installation in Chongqing, China, commissioned by Long Museum and an installation of large-scale sculptures and a mural in Chiba JPF Dome, Japan. In 2022, he presented a LED Billboard installation in JING Vision, Tokyo, Japan.
Read more
Close
Download full biography (PDF)
PUBLICATIONS
TOMOKAZU MATSUYAMA – NO PLACE LIKE HOME
Catalogue of the exhibition "No Place Like Home" by Tomokazu Matsuyama.
October 2018
Order

PARDON MY LANGUAGE
Catalogue from the exhibition "Pardon My Language" curated by Tomokazu Matsuyama with Wim Delvoye, Carlos Rolón /Dzine, Robert Lazzarini, Tomokazu Matsuyama, Jayson Musson and Alison Elizabeth Taylor.
(January 19 - March 3, 2018)
Order

videos
Inauguration of Zidoun-Bossuyt Dubai
8 March - 23 April 2022, 2022